Even if you're not a fan of NFL football or not, odds are you will probably tune in to the championship game Sunday, February 5. So, whether you're watching with your family or having a couple dozen people over, you are going to need some great recipes and maybe a couple party tricks to pull out of the proverbial hat. After scouring the Interwebs for the very best advice, we've assembled a list of recipes and party ideas.
One more thing: The 2012 Super Bowl is in Indianapolis, so rather than go all out with a theme (such as a Mardis Gras theme if the game were held in New Orleans, for example) we've really concentrated on what we consider the classics (or versions it). However, if you come up with a great theme idea, please let us know in the comments section below!
First Things First: The Preparations
1) Plan now! If you want to make sure you're ready for the main event, you're going to want to decide what the main event is. That means deciding who you want to come, the drinks you'll serve and the food you will need to prepare.
2) Drinks. Be sure to have a variety of sodas on hand; stock up on several mixers if you plan to have alcohol. Don't forget about iced tea! It's an inescapable "must have" here in the South. (Don't forget about cups!)
3) Munchies. Pick up some mixed nuts, party mixes (Chex mix, e.g.), popcorn, chips and dips (a staple), or maybe a veggie tray. Everybody likes snacks, but don't spend too much time on these. Keep it simple.
4) Decorations. Since the teams aren't yet known, it's hard to say something like: "Raid Party City for all the Green Bay Packers swag you can find!" Don't over think things unless you want to spend a lot of money and time. That said, Party City does actually have a decent selection of Super Bowl-themed plates, napkins, streamers, balloons and other nicknacks (http://www.partycity.com/product/super+bowl+party+supplies.do).
5) Activities for the non-fans. Let's face it, not everybody is going to be glued to the TV. Try to have activities that others can be doing if they're just not into it … or if it turns into a blowout. Have video games ready in another room; have trivia (maybe even football themed) and board games available; set up a corn hole game (bean bag toss) outside; let guests decorate football-themed sugar cookies or cupcakes.
 
The Recipes

Cheddar Bacon Ranch Pulls, Plain Chicken Blog
This first recipe, which comes from local food writer and blogger Stephanie Parker's Plain Chicken blog, is brilliant. Not only does it look amazing (check out that picture), but it has all the elements — bacon, cheese, ranch, butter, carbs! — of a good Super Bowl party appetizer. Plus it's hands-on, so it makes it that much more fun for your guests!
Ingredients
1 unsliced loaf of (round is preferable) sourdough bread
8-12 oz cheddar cheese, thinly sliced
3 oz bag Oscar Mayer Real Bacon bits
1/2 cup butter, melted
1 Tbsp Ranch dressing mix
Using a sharp bread knife cut the bread going both directions. Do not cut through the bottom crust. Place slices of cheese in between cuts. Sprinkle bacon bits on bread, making sure to get in between cuts. Mix together butter and Ranch dressing mix. Pour over bread. Wrap in foil the entire loaf in foil and place on a baking sheet. Bake at 350° degrees for 15 minutes. Unwrap. Bake for an additional 10 minutes, or until cheese is melted.
Guacamole, Southern Living, May 2007
This next comes courtesy of Southern Living. Avocados are something of a superfood. Not only are avocados full of nutrients, but they are simply delicious, especially when turned into dip or spread. Instead of serving up that same old queso dip or salsa, step it up a notch with some homemade "guac"! Save the hollowed out avocado shells and use them as small festive bowls. (Clean them up first, of course.)
Ingredients
5 ripe avocados
2 tablespoons finely chopped red onion
2 tablespoons fresh lime juice
1/2 medium jalapeño pepper, seeded and chopped
1 garlic clove, pressed
3/4 teaspoon salt
Tortilla chips
Preparation
Cut avocados in half. Scoop pulp into a bowl, and mash with a potato masher or fork until slightly chunky. Stir in chopped red onion and next 4 ingredients. Cover with plastic wrap, allowing wrap to touch mixture, and let stand at room temperature 30 minutes. Serve guacamole with tortilla chips.
*Cilantro Guacamole: Mash avocado, and stir in ingredients as directed. Stir in 3 Tbsp. chopped fresh cilantro and an additional 1 Tbsp. lime juice. Cover mixture, and let stand at room temperature 30 minutes.
Grown-up Chili, Chez Hansen
Not only is chili a great winter comfort food, but it is also a fantastic addition to otherwise mundane cheese dips, french fries, nachos, and so on. This recipe has a fair amount of heat, but that can be adjusted to your tastes (just use less hot spices and peppers!), so no worries there. Even better: This chili is made in a crock pot, freeing you up to do other things while it simmers its way to warm deliciousness.
Ingredients
1 1/2 lbs Ground Beef
2 Jalapeño Peppers, finely chopped
1 Bell Pepper, chopped
1 Sweet Pepper (similar to a bell), finely chopped
1/2 Large Yellow Onion, diced
2-3 Large Tomatoes, diced
2 Garlic Cloves, minced
1 12 oz Beer (dark works best, but whatever you have on hand will do)
1-2 C Beef Broth
1 15 oz can of Tomato Sauce
1 6 oz can of Tomato Paste
2 or 3 15 oz cans of Beans (Pinto, Kidney and/or Black)
Fresh Oregano
2 T Chili Powder
1 T Cumin
1 T Paprika
1 t Cayenne Pepper
1 t Ground Coriander
1 T Sugar
Salt and Pepper to taste
1) Cut up all your peppers, tomatoes, onion and garlic. I keep the oregano whole and just fish it out when the chili is finished, but feel free to mince it up.
2) Add ground beef to a large frying pan. Season with a little salt and pepper. Sauté just until meat is no longer pink (overcooking the meat now will result in a chewy, almost rubber end product). Drain meat in a strainer and set aside. Keep skillet for step 3. (There's no sense in dirtying up dishes if you don't have to, right?)
3) Add garlic, onion and peppers to the skillet and sauté on medium-low heat. Add the tomatoes once the onions begin to soften up (2-3 minutes). Stir a few times and let cook for about one minute; turn off heat.
4) Add sautéed beef and veggies to large crock pot (on low setting). Add next four ingredients (broth, beer, tomato sauce and paste). Stir well until paste, incorporating the paste throughout. Add beans and stir.
5) Combine all dry spices and mix well. Add spice blend and oregano to the crock pot. Stir. To borrow a phrase from an infomercial, "just set it and forget it." After 4 hours, you'll have an intense, sweet and spicy chili. If you're in a hurry, turn it to high and let it go for about 90 minutes to 2 hours.
Beer Cheese Cupcakes with Bacon Cheddar Cream Cheese Frosting, The Cupcake Project
All you need to do is read the title of these sweet treats. That's it. Imagine your guests faces when you invite them over for "beer cheese cupcakes with bacon cheddar cream cheese frosting." Seriously, picture it. The blog post (linked above) contains much more information than just ingredients and instructions, so be sure to visit it as well. Happy baking!
1 cup beer
1 stick, plus 1 tb, unsalted butter
1 cup grated cheddar (I'd go for the good stuff here. Get something nice and sharp, not the cheap stuff that comes shredded in a bag.)
2 cups dark brown sugar
3/4 cup sour cream
2 eggs
1 tb vanilla extract
2 cups flour
2 1/2 tsp baking soda
1. Heat beer and butter in a large saucepan on medium-high heat until butter is melted.
2. Add cheddar.
3. Remove from heat, and whisk in the sugar.
4. In a separate bowl, whisk the sour cream with the eggs and vanilla.
5. Mix the sour cream mixture into the beer mixture.
6. In a separate bowl, sift together the flour and baking soda.
7. Fold flour mixture into the batter.
8. Fill cupcake liners 3/4 fill.
9. Bake at 350 F for 25 minutes, or until inserted cake tester comes out clean.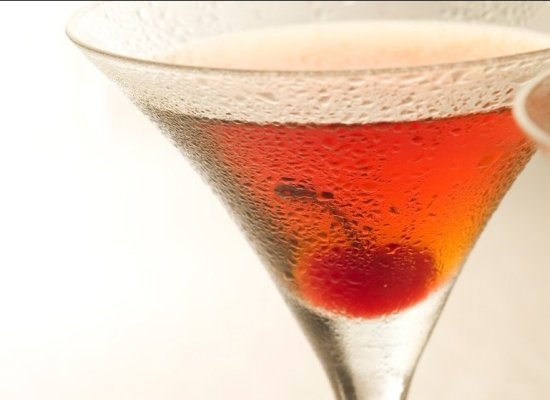 The Cocktails
In the event you are having alcohol at your party, consider branching out beyond beer, which is still a good thing to have on hand just in case. Liquor.com suggests these five classy cocktails for Super Bowl festivities. (Rather than posting five cocktail recipes, click here for a slideshow on Huffington Post, complete with recipe links.)
What will you be serving up at your Super Bowl party?